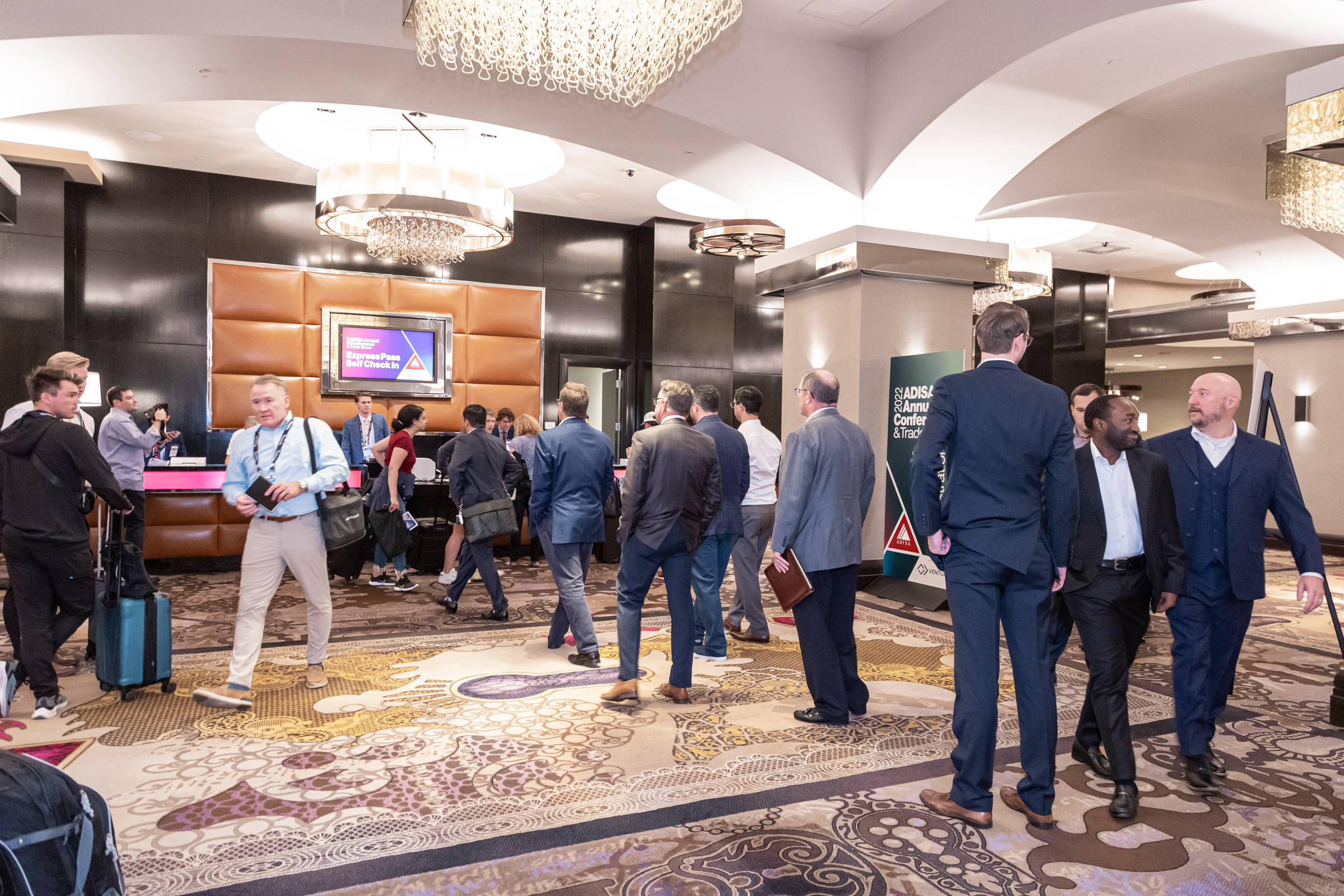 2024 Event Attendee Pricing
2024 Spring Conference
April 8-10, 2024
The Fairmont Chicago, Millennium Park
Sponsor

Companies engaged in the sales of alternative investment products, including real estate securities

Member: $780 (with event exhibit/sponsorship); $1,360 (without event exhibit/sponsorship)
Non-member: $2,996

*Prices increase by $200 after Friday, March 15, 2024.

Affiliate

Attorneys, independent wholesaling firms, sponsor-affiliated broker-dealers, managing broker-dealers, real estate firms, management companies, mortgage brokers, lenders, accountants, appraisal firms, QIs, and other industry-related parties

Member: $760 (with event exhibit/sponsorship); $1,380 (without event exhibit/sponsorship)
Non-member: $2,998

*Prices increase by $200 after Friday, March 15, 2024.

Retail Independent Broker-Dealer Firm

Only principals, owners and officers are eligible.

Complimentary registration, includes 2 hotel room nights (limit 2 per company)
Retail Broker-Dealer Additional Staff: $120

Retail Independent RIA Firm*

Only principals, owners and officers can receive complimentary rates and hotel rooms.**

Complimentary registration, includes 2 hotel room nights (limit 2 per company)
Retail RIA Additional Staff: $120

Retail Registered Representative/IAR***

Must be affiliated with a broker-dealer firm with a valid Series 1, 7, 22 and/or 65 license and primary business is serving retail investors with a verifiable book of business.

$120, includes 1 hotel room night

Family Office

Complimentary registration, includes 2 hotel room nights (limit 2 per company)
Family Office Additional Staff: $120
2024 Alts Research & Due Diligence Forum
July 2024 (exact dates TBA)
Boston, Massachusetts
Sponsor

Companies engaged in the sales of alternative investment products, including real estate securities.

Member: $780 (with event exhibit/sponsorship); $2,799 (without event exhibit/sponsorship)
Non-member: $2,996 (with or without event exhibit/sponsorship)

Affiliate

Attorneys, independent wholesaling firms, sponsor-affiliated broker-dealers, managing broker-dealers, real estate firms, management companies, mortgage brokers, lenders, accountants, consultants, appraisal firms, QIs and other industry-related parties.

Member: $760 (with event exhibit/sponsorship); $1,480 (without event exhibit/sponsorship)
Non-member: $2,998 (with or without event exhibit/sponsorship)

Retail Independent Broker-Dealer Firm

Only principals, owners and officers are eligible.

Complimentary registration, includes 2 hotel room nights (limit 2 per company)
Retail Broker-Dealer Additional Staff: $120

Retail Independent RIA Firm

Only principals, owners and officers can receive complimentary registration and hotel rooms.**

Complimentary registration, includes 2 hotel room nights (limit 2 per company)
Retail RIA Additional Staff: $120

Family Office

Complimentary registration, includes 2 hotel room nights (limit 2 per company)
Family Office Additional Staff: $120
2024 Annual Conference & Trade Show
October 7-9, 2024
The Cosmopolitan of Las Vegas
Sponsor

Companies engaged is the sales of alternative investment products, including real estate securities

Member: $780 (with event exhibit/sponsorship); $1,360 (without event exhibit/sponsorship)
Non-member: $2,996 (with or without event exhibit/sponsorship)

*Rates will increase by $200 after September 12, 2024.

Affiliate

Attorneys, independent wholesaling firms, sponsor-affiliated broker-dealers, managing broker-dealers, real estate firms, management companies, mortgage brokers, lenders, accountants, consultants, appraisal firms, QIs, and other industry-related parties

Member: $760 (with event exhibit/sponsorship); $1,380 (without event exhibit/sponsorship)
Non-member: $2,998 (with or without exhibit/sponsorship)

*Rates will increase by $200 after September 12, 2024.

Retail Independent Broker-Dealer Firm

Only principals, owners and officers are eligible.

Complimentary registration, includes 2 hotel room nights (limit 2 per company)
Retail Broker-Dealer Additional Staff: $120

Retail Independent RIA Firm*

Only principals, owners and officers can receive complimentary registration and hotel rooms**

Complimentary registration, includes 2 hotel room nights (limit 2 per company)
Retail RIA Additional Staff: $120

Retail Registered Representative/IAR***

Must be affiliated with a broker-dealer firm with a valid Series 1, 7, 22 and/or 65 license and primary business is serving retail investors with a verifiable book of business

$120, includes 1 hotel room night

Family Office

Complimentary registration, includes 2 hotel room nights
Family Office Additional Staff: $120
*Hybrid Advisors (registered with a BD & RIA) must register in the Dual category.
**Must be doing business with the public (not a wholesale distributor only), and must be selling the products of more than one unaffiliated product company.
***You are NOT ELIGIBLE to attend in this category if you are employed or contracted as a sponsor, wholesaler, MBD, service provider, RE Broker, etc.
All registrations are subject to a third-party audit. ADISA reserves the right to changes/charge for the correct category. Other restrictions may apply.